When we browse the web with our favourite browsers, our browsers store different kinds of browsing data including history, login, passwords, forms, site preferences and many other privacy information which are saved in cache and cookies of the web browser. So these information tell our online identity in a browser. So it's very easy to understand that if we surf internet from a public place we must not leave our browsing data on browser. We should clear our all data to protect ourselves from privacy theft by others. So I made some simple tutorials on deleting browsing history from common web browsers as Chrome, Internet Explorer, Safari, Firefox, Opera etc.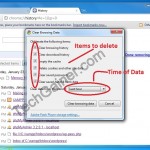 (Remember, clearing browsing data may not protect you if you don't conscious about clearing your system's data).
Delete Browsing Data from Firefox, Google Chrome, Opera, Internet Explorer and Safari :
I have made the tutorials with the highlighted browsers. But all other browsers should be same. It you are using any Mozilla Firefox based browsers like Flock, Comet Bird, Sea Monkey etc then they should be applied for Firefox. If you are using Iron Browser, then it should be applied for Chrome.
Clear Browsing History in Firefox :
I have mad two screenshot procedures with Firefox 3.7 and 4 beta 8. All latest version should be same as 4 beta 8 and all older versions should be same as 3.7 .
In Firefox 3.7 :
1. At first go to Tools. You will see a link called "Clear Private Data".
2. Then you will sent to private data clearing page like below.
3. After marking the desired fields, click on Clear Private data now.
In Firefox 4 Beta 8 :
1. Click on Firefox at the top left corner.
2. Then go to Options.
3. Now at options page, go to Privacy Tab. Then click on "Clear Recent History".
4. Now at the Privacy cleaner window you can clear your web surfing history also by choosing time.
So those all about Firefox and it's all derivatives link Seamoneky, CometBird, Flock etc.
(Do you know, you can download your all facebook data, history in a zip file?)
Clear Browsing History in Google Chrome :
(I will make the example with Chrome 10)
(Important an funny: A modification of Google Chrome experiment where Google fall down due to it's gravity!)
1. First click on Settings icon at the top right corner of chrome. Then click on History.
2. Now at history page, click on Edit Items.
3. Now click on Clear All Browsing Data. Then clear your data also choosing time.
This process also should be applied for other chrome based browsers like Iron Browser which is a privacy conscious version of Google chrome.
Related important: Google Chrome browser may be spying on all of us! Is it really true?
Clear Browsing History in Opera :
(I will  show the example with opera 11)
1. First click on Menu at the top left corner of opera window. Then proceed Settings > Delete private data.
2. Now at private data cleaner window, click on Detailed Options to expand and view all data selections. Then delete your data.
That's all about opera browser.
(Funny: Make your all web page images to fly on browser window)
Clear Browsing History in Internet Explorer :
(I will make the example with IE 8)
1. Go to Tools > Internet Options.
2. Now at general tab, click on Delete under Browsing History bar. Then delete all of your browsing information.
That's all about Microsoft's internet explorer. Latest versions should be same.
Clearing Browsing Data in Safari :
(Here I made the example with Safari 5 Windows version. Safari for Mac OS X also should be the same)
(Important : You can also use Safari Web Browser on your favourite Linux OS/Distro)
1. Click on the Settings Icon at the top right corner of safari. Then click on Reset safari.
2. Now delete your all safari data by selecting and resetting them.
That's all about Apple's Safari.
(Important : What is fake Facebook login page and how it's used to hack a Facebook account).
Advantages of Clearing Our Browsing Data at Public Place :
1. Our all surfing history and identity will be removed from the browser.
2. Our all login information like passwords and user names will be deleted.
3. No one will not able to access our online accounts.
3. No one will not able to hack us through browsers.